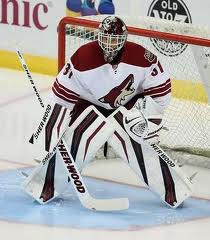 "I've been using the Sham sweatbands since the season started and its hands down one of the best products I've come across in years for goaltenders. No more issues with sweat running into my eyes and I only need one for the duration of any game. Great product that I highly reccommend!" – Curtis McElhinney (Phoenix Coyotes)
"I've been having goaltenders from youth through pro rave about the Sham Sweatbands. I've only heard positive feedback from the 50 or so goaltenders I've distributed them to.  I highly recommend this product not only for the quality, but also for the comfort level. It is by far the best sweatband I have ever seen or used."
Bob Janosz
Owner Janosz School of Goaltending
www.bobjanosz.com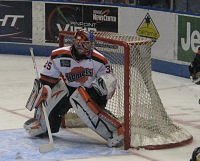 My name is Kevin Reiter. I'm currently in my 7th year pro and haven't found a better sweatband on the market. I've used the Sham Sweatbands for 20 skates (practice, games, pregame skates, etc…) now and I do like them more than anything else I've used. I can't get over how much sweat they actually hold. It doesn't matter if its a game or practice, I sweat just warming up.
After the period is over I'll ring them out and its unbelievable the amount of sweat they store. I like how they don't drip as much as regular bands. My other bands would drip on either end and run all over my face. I couldn't wait for a TV timeout so I could get to the bench and wipe my face with a towel.
Personally, I like the yellow ones much better than the blue ones. I like how they are soft and pretty gentle on my dry skin forehead. Other bands I've used before become worn quickly and tough on your skin like sandpaper. After using them numerous times it is great to see how well they've held up. It will be interesting to see how long they stay in great shape.
Anyway, I love the product and I think they are going to be a huge success. I know I'll be passing the word around via friends or students I teach.
Kevin Reiter
Fort Wayne Komets (Central Hockey League)
I highly recommend them, even after only one game. I'm a big guy, so when I'm playing, I do admittedly sweat quite a bit. This sweat band put the one that came with my Reebok mask to shame. Usually by the time the end of the second period rolls around, my Reebok band is saturated, and I'm starting to get sweat in my eyes. The sham sweatband felt like it could have kept going by the time the game ended
Shawn Sproule